Educational settings at world-class destinations.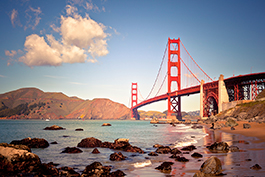 San Francisco | Cavallo Point and The Lodge at the Golden Gate
Monday, April 22 - 25, 2019
University of California, Merced
Thursday, April 25 - 27, 2019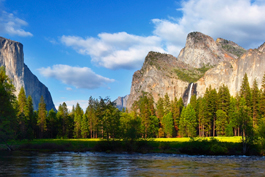 Yosemite National Park
Sunday, April 28 - May 1, 2019
CAVALLO POINT, GOLDEN GATE | APRIL 22 - 25
APRIL 22 | Monday Afternoon
Class meets Monday afternoon at Cavallo Point
Introductions and roadmap to the course: David Sibbet and Steve Shackelton
Lecture and discussion Law, Science, and Policy – Foundation of Sustainable Park Leadership : Steve Shackelton
Participants share their own case studies in a speed round: facilitated by David Sibbet
Evening reception: Dr. Milton Chen Edutopia, Regional Director Stan Austin, Chancellor Dorothy Leland
APRIL 23 | Tuesday
Morning and early afternoon session: Dr. Charles O'Reilly, Leading Change and Organizational Renewal; The Importance of Organizational Culture; The Ambidextrous Organization; Understanding the Levers of Change.
Afternoon session: Dr. Erik Roland, The Value Proposition Model; Seeking Stakeholder Alignment; Reducing Conflict and Securing Sustainable Decisions
APRIL 24 | Wednesday
Morning field excursion to Alcatraz Island: Led by former site manager Armando Quintero
Lecture on Alcatraz Island Contemporary Issues in Water, Climate and Policy, Armando Quintero
Afternoon field session on partnerships, Marin Headlands, Marine Mammal Rescue Center
Walk across Golden Gate Bridge (optional)
Evening campfire and global parks (optional)
APRIL 25 | Thursday
Morning - Facilitated work on participants' case studies in small groups: David Sibbet and mentors
Late morning depart for UC Merced via the Sacramento-San Joaquin Delta

UC MERCED CAMPUS | APRIL 25 - 27
APRIL 25 | THURSDAY
Arrive UC Merced early evening – dinner lecture Vice Chancellor Dr. Samuel Traina: The Essential Science Relationship Between Parks and Universities
APRIL 26 | FRIDAY
Keynote Presentation and Cohort Discussion Grand Teton Superintendent, David Vela
Youth, Inclusion, Outreach and Leadership Development

Dale Fergerstrom and Nahaku Kalei Na Pe'a
Kristina Rylands and Moose Mutlow, NatureBridge
Jesse Chakrin, Jessica Rivas, The Yosemite Leadership Program

Evening Bar-B-Que at Lake Yosemite – NPI cohort, David Vela, Na Pe'a, NatureBridge and Yosemite Leadership Program students
APRIL 27 | SATURDAY
Indigenous Peoples Issues and the Importance of Cultural Resource Protection , Dr. Teenie Matlock
Technology as a Leadership Ally, Management Applications of GIS , Dr. Paul Doherty
Graphic Techniques in Planning, Organization and Problem-solving , David Sibbet
Participant Case Studies, Facilitated Small Groups, David Sibbet and Mentors

YOSEMITE, TENAYA LODGE | APRIL 28 - MAY 1
APRIL 28 | SUNDAY
Mariposa Grove of Giant Sequoias in Yosemite National Park
Field Lecture, Dr. Jan Van Wagtendonk, Fire Ecology and How Science Undergirds Park Fire Policy and Ecosystem Restoration
Field Lecture, Shelton Johnson, The Importance of Stories and Public Understanding, Buffalo Soldiers and the Establishment of Yosemite, Sequoia and Kings Canyon National Parks
Participants Case Studies, Facilitated Small Groups, David Sibbet
Dinner Tenaya Lodge, Yosemite Superintendent Mike Reynolds on Problem-solving in Today's Complex Park Management Environment.
APRIL 29 | MONDAY
Field Excursion to Hetch Hetchy. This excursion takes a route from the south end of the park, northward, through Yosemite Valley and to the site of one of the greatest environmental battles of the last century: Hetch Hetchy Reservoir. Participants will hear the history of the damming of the Tuolumne River and engage in a discussion on the evolution of law and policy, generated by that series of events.
Concession Dinner. Participants will have dinner on the way back to base in Yosemite Valley and will delve into the relationship between park management and concession management – the balance of services to the public.
APRIL 30 | TUESDAY
Facilitated Small Groups Sessions on Participant Case Studies, David Sibbet and Mentors
Indigenous Issues, Dr. Julia Parker, Growing Up as an American Indian in California and My Mission in Yosemite.
MAY 1 | WEDNESDAY
Seminar Participant Report-outs on Case Challenges
Seminar Concluding Certificate
1:00 PM Board Transportation Back to San Francisco