National Parks Institute Address
Apr. 22, 2019
President Janet Napolitano delivered this address at the launch of the 2019 National Parks Institute leadership summit in Sausalito, CA on April 22, 2019. Here are her remarks as prepared for delivery: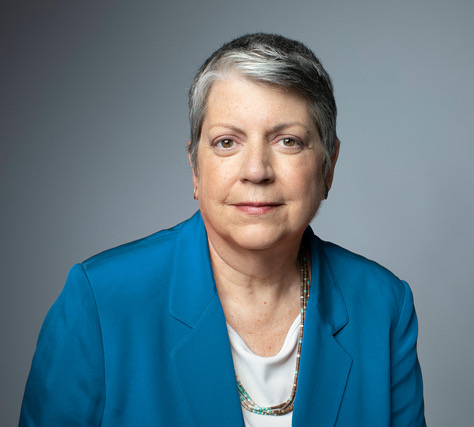 Good evening, everyone! Thank you, Chancellor Leland, and to Steve Shackleton and UC Merced for inviting me to speak at tonight's reception.
I'm proud to join you in celebrating and welcoming a new cohort of National Parks Institute leaders. The next nine days will present a remarkable opportunity to learn best practices and management strategies with some of the nation's leading experts, at three of the most majestic settings in the world. The Institute at the Golden Gate. Yosemite National Park. And I know I may be biased, but I'm including UC Merced on that list!
It is so fitting to kick off the 2019 National Parks Institute here in the beautiful Golden Gate National Recreation Area. Last month, the National Parks Service announced that this area was the most visited park in the country in 2018. In total, there were more than 318 million recreational visits to U.S. national parks last year – the third highest number of visitors since record-keeping began in 1904.
Managing these record-high levels of visitors is just one of a dazzling array of issues that parks and protected area managers handle on any given day. From wildlife management and maintenance backlogs, to climate change and pollution issues, the responsibilities and the stakes for today's park leaders are enormous.
The National Parks Institute was created in recognition of these growing demands. This world-class training is designed to train and empower park leaders and managers to tackle the many overlapping challenges they face every day in the field.
This ambitious training program also reflects a remarkable relationship that has existed between the University of California and the national parks going back more than a century.
Indeed, it was two UC Berkeley alumni who recognized the need for a system of highly-trained and dedicated park stewards to manage these natural treasures. They were Stephen Mather, class of 1887, and Horace Albright, class of 1912.
Let's go back to 1915 for a few moments. More than 40 years after President Ulysses S. Grant created Yellowstone National Park in 1872, the U.S. still had no central authority responsible for park management and oversight.
Stephen Mather, a UC Berkeley graduate and successful businessman, had recently visited Sequoia and Yosemite National Parks. He was inspired by the parks, but he was dissatisfied by their poor condition – so he sent a sternly worded letter to then-Secretary of the Interior Franklin Lane.
(As a former Secretary of Homeland Security, I can tell you that people still do this today...)
Instead of brushing off the criticism, Secretary Lane invited Mather to join the Department of the Interior and lobby for an agency to manage the parks. So Mather moved to Washington D.C., and Horace Albright – already working at the Interior Department – agreed to serve as his assistant.
Hoping to generate Congressional support to create and fund a united parks agency, Mather and Albright worked to entice more Americans to visit national parks.
Mather spearheaded an ambitious public relations campaign, encouraging reporters to write about the parks and circulating hundreds of thousands of illustrated pamphlets touting their scenic beauty. In 1915, Mather and Albright convened a conference at UC Berkeley to pitch 75 prominent scientists, conservationists, and politicians to create an agency that would manage the parks. And a few months later, Mather led a group of influential leaders on a two-week sightseeing trip, on horseback, through the Sierra Nevada.
Now, I'm not sure that two weeks on horseback would have convinced me to do anything but hastily retreat back to the city. But Mather's lobbying expedition actually worked. One year later, the Organic Act was passed by Congress and signed into law, creating the National Park Service.  Mather became the agency's first director, and Albright its second.  
And as the national parks system grew and matured, UC Berkeley—and, by extension, the entire UC system—retained its close connection with the national parks.
Berkeley Professors Joseph Grinnell and Joseph LeConte conducted seminal field research in Yosemite and trained early cohorts of National Park Service biologists.
One of Grinnell's students, George Melendez Wright, conducted the first comprehensive survey of wildlife in the parks. He was later named the first chief of the park service's Wildlife Division, which for years operated out of the top floor of Hilgard Hall at UC Berkeley.
In subsequent decades, UC faculty and students carried on this proud tradition, conducting research in – and for – our national parks that yielded new insights into everything from biodiversity management to carbon sequestration to the health benefits of public lands. This research fostered the development of a range of lands management strategies that have enabled field leaders like you to increase public utilization of the parks and protect them from damage.
These are just a few of the ways in which the University of California helped shape the direction of the national parks for more than 100 years.
But UC is also looking forward to the future of the parks, by training the next generation of park leaders to carry on the outstanding work that you are doing now.
During a trip to Yosemite a few years ago, I met with a group of young men and women taking part in UC Merced's Yosemite Leadership Program, a two-year course of study for UC undergraduates that provides skills training and mentorship as well as immersive field-based projects.
Like the National Park Institute, the Yosemite Leadership Program is designed to build a pipeline of diverse leaders equipped to meet the challenges that our national parks and protected areas face in the 21st century. Today's park leaders must manage overcrowding, maintain eroded infrastructure, protect visitors and wildlife, and handle legal disputes – just to name a few.
That's why the University of California's partnership with the National Park Service and Yosemite National Park has never been more important. It has created a vital nexus of research, expertise, and practical training focused on addressing these challenges and equipping current and future leaders with the tools to manage them. The National Parks Institute is at the heart of that work.
In the words of legendary park ranger Betty Reid Soskin – who at 97 years old is still working at the Rosie the Riveter WWII Home Front National Historical Park in Richmond, California – public lands are vital to our cultural identity because "they help us process our collective history."
Protecting and learning from our natural lands, and ensuring their accessibility for future generations, isn't just about environmental sustainability or economic vitality. It is essential if we are to be the best Americans we can be.
I'm so proud of the next generation of leaders who are rising up to meet these challenges. We will all be better citizens because of you.
Thank you!